Domaine de Cardon
Since starting this journey into the world of wine, Amy and I have always remained true to our belief that the best wines in the world have yet to be discovered.
We both love to travel through rural France, exploring the small villages that are off the beaten track. Some of the best wines we've ever tasted have been the result of a spontaneous road trip and knocking on a producer's door.
We're passionate about supporting small producers and building ongoing relationships with them. By working with small producers directly, the winegrower gets a fair price for their wines, and our customers are assured that with each order, our wines are quality and that there's a story behind each bottle.
We were so excited when we first discovered Domaine de Cardon!
Domaine de Cardon is located 30 kilometers from Beaune, in Dracy le Fort, in the heart of the Côte Chalonnaise.
The Cardon de Sandrans family has its origins in 12th century Spain, when its name was Cardona. In the 19th century, the Cardon de Sandrans family settled in the Lyon region and owned the Domaine de la Roche Cardon just outside Lyon, before settling in Dracy-Le-Fort in Burgundy. The estate was split in the middle of the 20th century.
In 2012, their descendant Frédérique de Cardon de Sandrans, decided to revive the tradition and values ​​of his family by creating a wine estate.
With the help of Thierry Bied, who shares the same ideals and the same love of wine, they founded Domaine de Cardon in 2013.
Today, the estate's owns 20 ha, of which 14.5 ha are currently exploited for wine production. The cultivated grape varieties are Chardonnay, Pinot Noir, and Aligoté (which are the only grape varieties authorized in Burgundy) as well as Gamay in Beaujolais.
The Côte Chalonnaise is best known for its prized white wines. Some of the finest Aligoté and Chardonnay in the world is grown on these renowned slopes.
Thierry Bied explained that a great deal of care goes into making these quality still wines.
The white grapes are pressed and transferred into vats where the juice is allowed to macerate for 24 hours at 15 degrees before being fermented at between 16 and 17 degrees. This cool maceration and low fermentation temperature allows for maximum extraction of the grape's aromatic properties. He explained that this approach to vinification obtains fruity and fresh wines.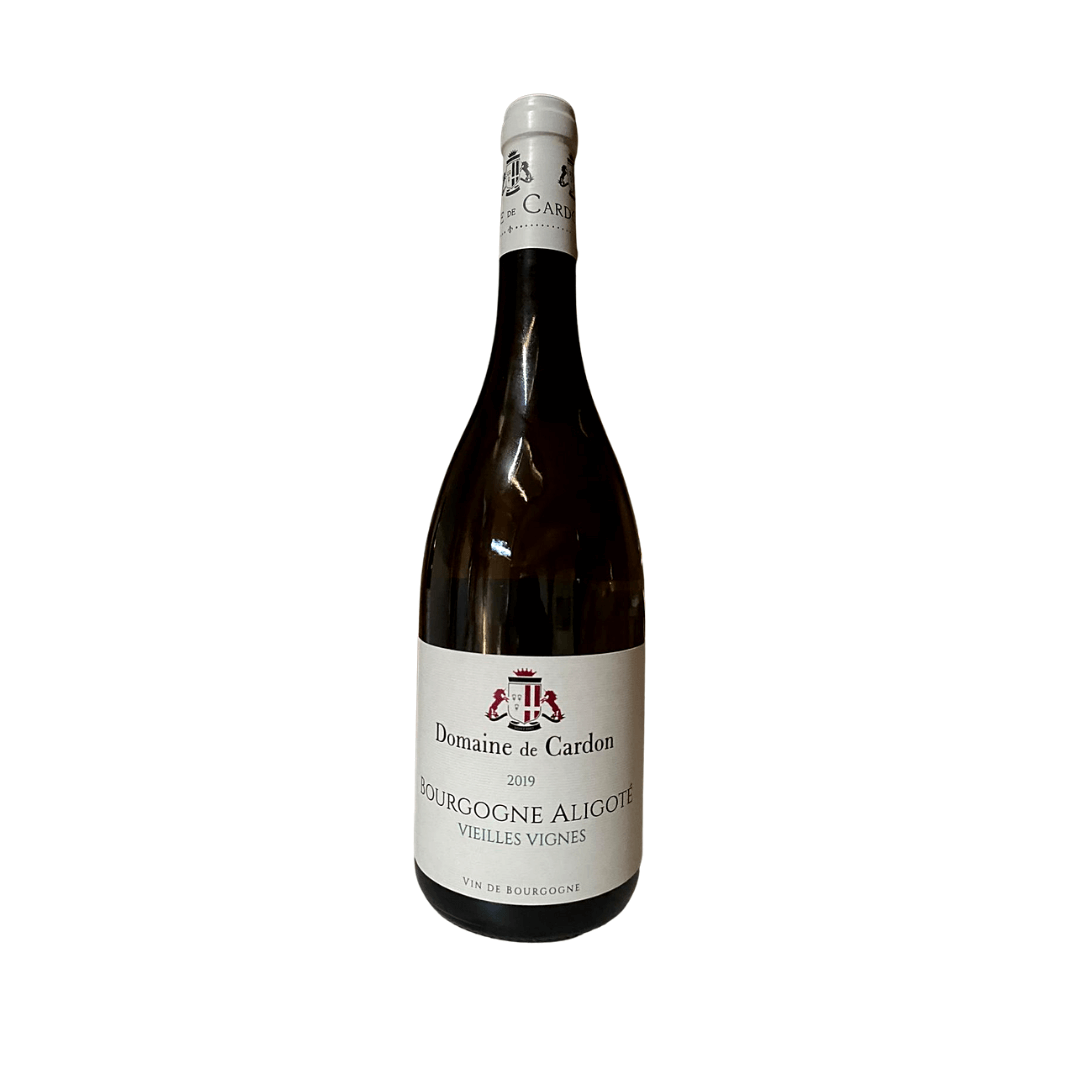 Domaine de Cardon produces a single Rosé made from a small parcel of Gamay grapes which are planted, rather surprisingly, next to their Pinot Noir vines in Burgundy.
Because of the strict rules in Burgundy regarding grape varieties, Gamay is not currently authorised under the umbrella of the 'Apellation Bourgogne Controlée'. This means that despite being grown and vinified in Burgundy, this beautiful Gamay Rosé is labelled as VSIG or Vin de France.
Nevertheless, this is a really special wine and it has been our most popular wine to date this summer!
Thierry explained that the same approach is used when making his unique Rosé.
The Gamay is pressed immediately, preferably in the morning before it gets too hot so as not to extract too much colour from the skins, and the juice is macerated as above, with fermentation controlled at between 16 and 17 degrees in order to obtain such a fresh and vibrant wine.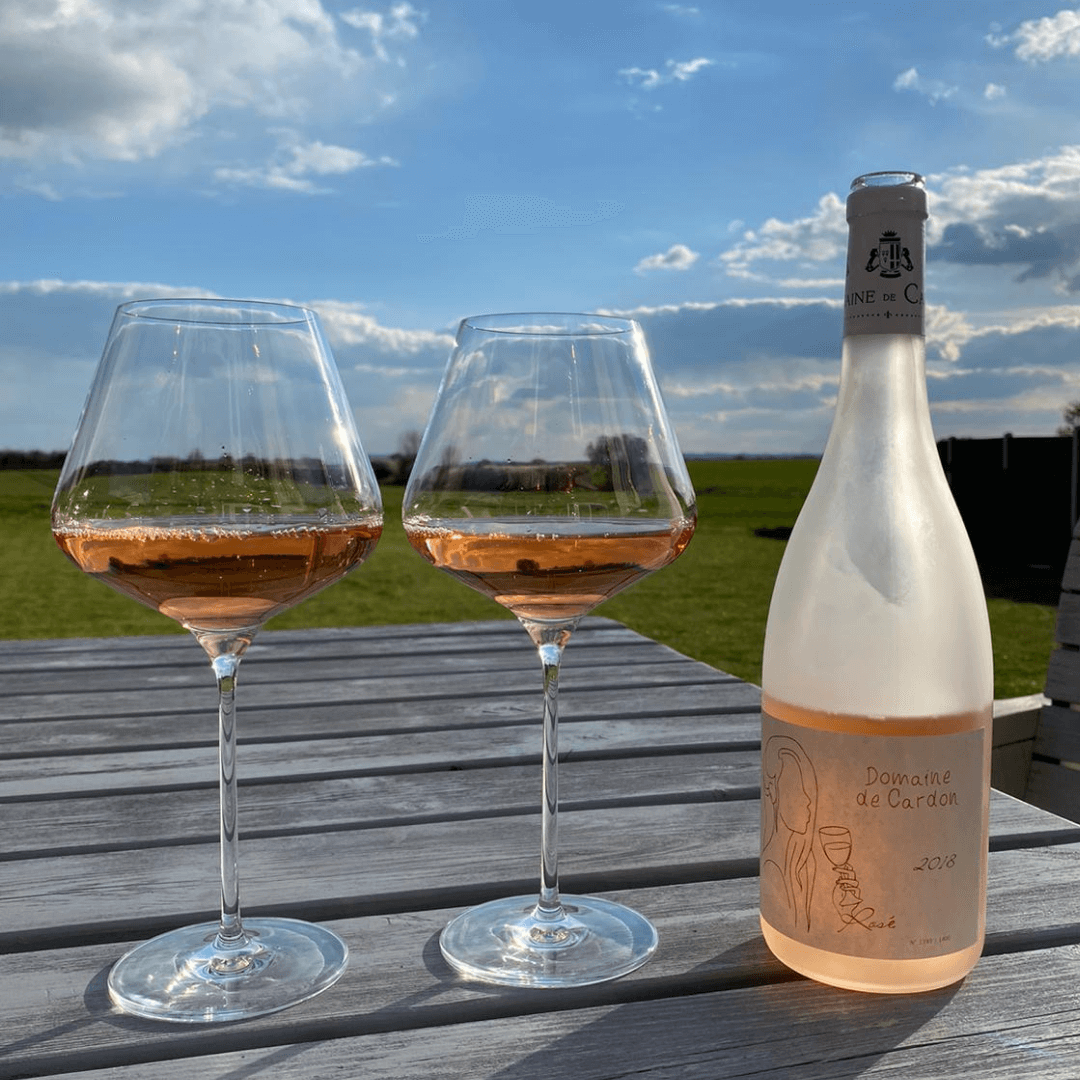 The Côte Chalonnaise, along with its still wines, produces some incredible sparkling wines. There is a long history of making sparkling Bourgogne in Rully, with the first Crémant de Bourgogne recorded back in 1822.
The domaine's Crémant de Bourgogne "Sélection Frédérique" is made each year with a variety of grape; usually a blend of Pinot Noir, Aligoté and Chardonnay.
All of the grapes are hand picked, pressed and vinified as a white wine using the same approach of keeping fermentation temperatures low to maximise the aromatic qualities of the wine. Thierry mentioned to us that after a few months of ageing (around spring time the following year) the wine is bottled and is secondary fermented in the bottle in the same way as making Champagne.
Once bottled, sugar is added and the wine is allowed to ferment again in order to produce carbonation. This process also creates a sediment of yeast in the bottle, referred to as the lees, which transforms the wine and adds an array of complex flavours during fermentation and ageing.
Crémant de Bourgogne must be aged for at least 9 months on the lees before being disgorged (the process of removing the yeast sediment from the neck of the bottle) corked, labeled and released for sale.
Frédérique and Thierry insist on holding their Crémant for a further 12 months (a total of 24 months on lees) before being disgorged. As with a vintage Champagne, this extended ageing on lees allows the wine to be awarded the coveted "Eminent" label.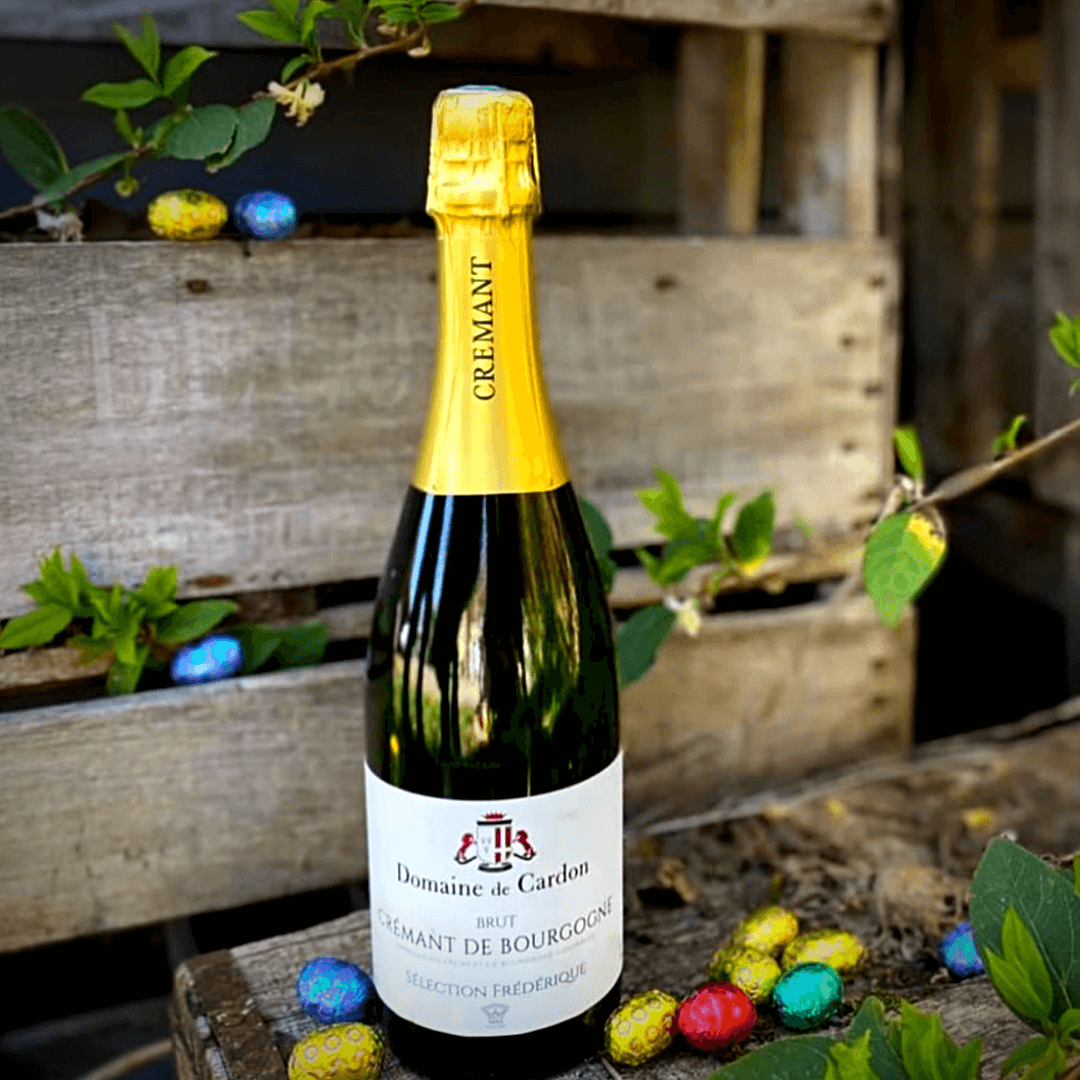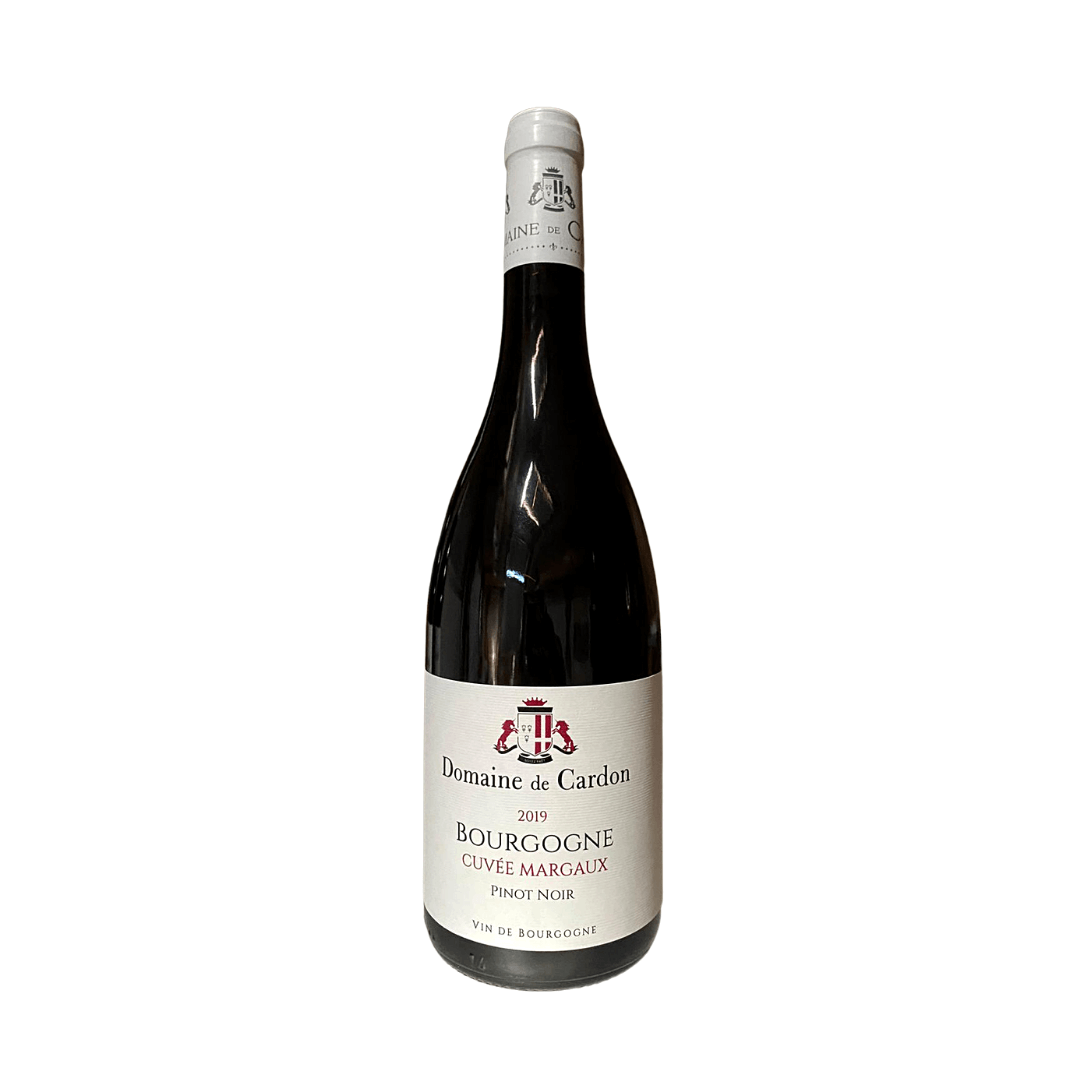 Thierry explained that their Cuvee "Margaux" is from a lesser-known vineyard, in Couchois to the west of Mercurey and South of Hautes Cotes de Beaune.
These Pinot Noir vines are planted on a hill opposite the castle of Couches, which is south facing, some 200 to 300 metres above sea level.
"This gives us this beautiful intense black cuvee, a full wine with aromas of black fruit, elderberry, blackberry, evolving with time on notes of tobacco and liquorice".
Pierre, the cellar master of Domaine de Cardon, completely de-stems the grapes and macerates them in vats for 48 hours before fermentation. The must is then fermented for 7 to 10 days, with continuous pumping over to extract tannin and colour from the skins.
One of the striking things about their red wines is the weight and colour of them; these are big wines with a great deal of body and colour. When we asked Thierry about this, he explained that this is mostly due to the terroir on which the vines are grown. Cellaring in aged oak barrels also adds character to these wines.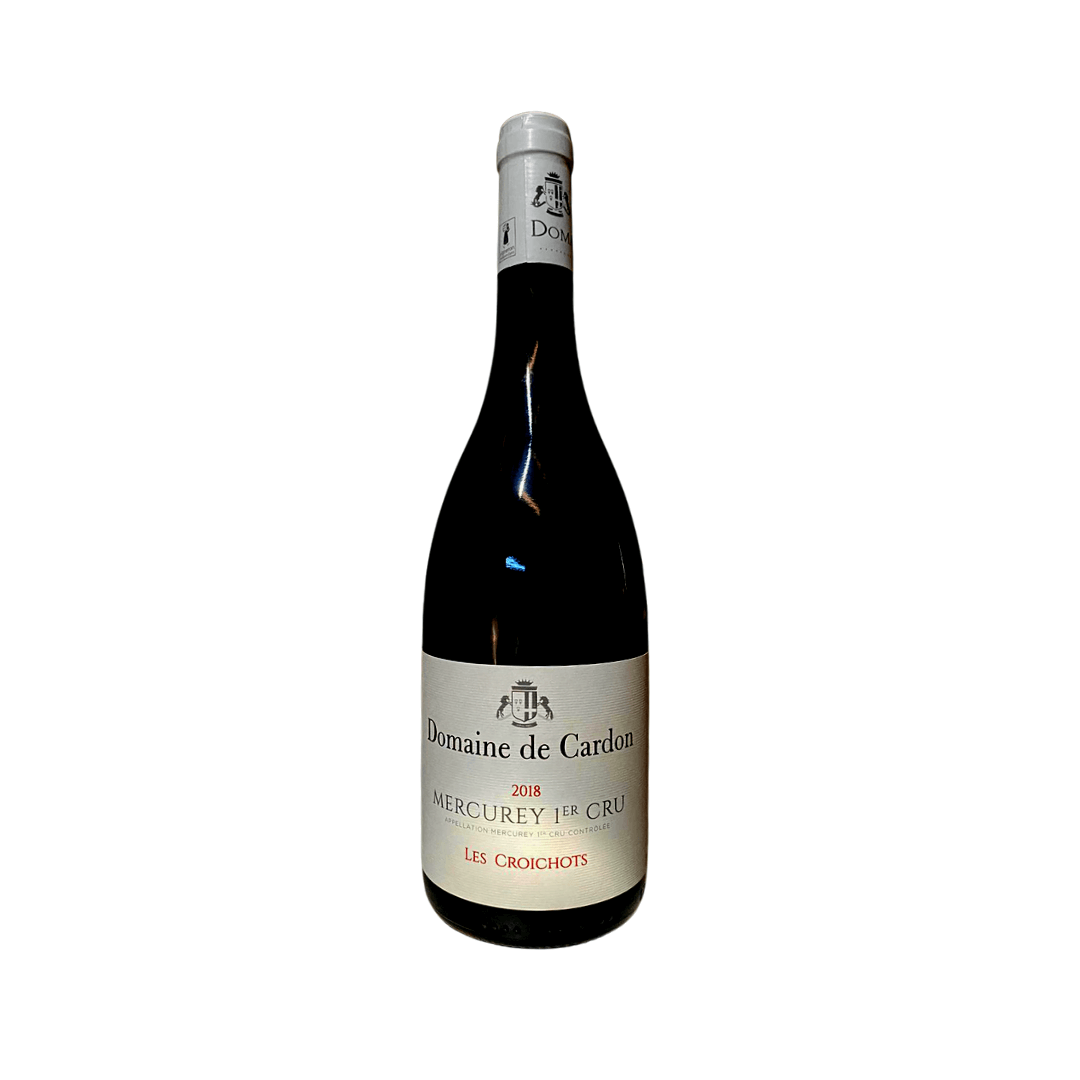 The Domaine makes a single Premier Cru Pinot Noir from the Les Croichots vineyard in Mercurey.
"This parcel, nestled within a large bowl facing south, is a real sun-trap which is perfect for this wine, aged for a minimum of ten months in oak barrels."
Deep cherry red, sweet ripe fruit on the nose with a touch of oak, perhaps a little floral? Delicately structured with gentle tannins. Moorish and perfectly balanced with a long finish. Drinking beautifully already- we recommend a drinking window of 2021 to 2026.
We are proud to work with and support Domaine de Cardon. You can view their website by clicking here!